By Christopher Derrick |
08
January 2019 |
5
Comments
How to select which dtg printer to buy for your own dtg printing business?
There are so many dtg printers on the market, so how to selet a good dtg printer that suitable for your own dtg printing business?
This month technical managing director of Focus inc. Christopher Derrick explores the many direct to garment printer options available out there in the market currently and which one would potentially suit your business.
I should imagine that many of you have recently visited some dtg printer show or searched a lot on google. There were many different makes and sizes, with prices ranging from around $1500 up to over $360,000. So which is the correct fit for you and your company?

Pricing
Pricing at show seemed a bit erratic, some dealers dropped their prices significantly, by has much as 35% and others by the normal show discounts of between 7.5% and 10%.
I would personally be aware of suppliers discounting by 35%. How can they afford to do this, I ask myself? Either they are about to launch a new printer or their printers were massively overpriced in the first place. The other thing to consider is if you had purchased a printer at the normal price, your asset is now worth more than 35% less.
Suppliers need to make a reasonable margin so they can exist, and offer you the kind of support you would expect Also guarantee the quality.
So first you gona to set up a resonable budget for your dtg printing business before you invest a dtg printer.

Print area
Decide what printing area you think you will require and what market you are going to sell into.
Printing areas range from 32x45cm through 42x60cm up 42x95cm. You can also find multiple platen configurations for higher productions but obviously the pricing for these would be higher.
I would always go for something in the middle, like 42x60cm so you have the flexibility to print full size on a T shirt, remember, you can always print smaller than this. If you know that around 32x45cm will satisfy your customers then you will save yourself around £3,000 in equipment cost.
The market you are selling into will define what maximum size printer you require.

Modular
Some printers are modular, which means you can have more than one printer connected to one PC and RIP software. This could be an alternative to paying out for one larger and more expensive one, buy three or four around the £10,000 mark. This a big advantage if your more expensive printer breaks down, if you had modular ones only one would be out of action.

Big mistake
One big mistake when buying a DTG printer is not to check the ink and maintenance costs. The cost of inks on printers with sealed cartridges is nearly double the cost of re-fillable cartridges.
These suppliers will try and hide this from you or tell you that sealed cartridges are a must.
Best buy would be a printer with a pressurised ink system and re-fillable tanks . as the focus inc. all dtg printers are not use the sealed chips ink cartridges. all made as CISS. continus ink supply system. it allow you re fill the ink once it running out.
Look carefully at the warranty conditions of DTG printers, some systems have to be flushed out around every month and have certain parts changed to comply with its warranty. Flushing a system out and changing parts could cost you another £150-£200 a month. Add this to higher ink costs and you have more or less doubled the monthly cost of the printer.

some supplier may use the second hand spare parts or rebuild system and sell to you as new one. let me take the cap station for example. the cap station was designed for clean the print head and keep wet for idle. it need to be cleaned everyday after the printing job. it have a clean pump to connect with the cap for pump ink. there are two common ink cleaning pump at the market, one called rotor pump while another called peristaltic pump, 80% suppliers use a rotor pump as it is cheap. it cost arround 5usd, while the peristaltic pump will cost no less than 50usd per one. the biggest problem for the rotor pump is the tube inside can not be closed while the printer power off without printing. so the air will follow to the cap station and make the print head dry to cause head clog. the peristaltic pump will automatic stop to switch off the air go to cap station. so the print head can get good keep wet result to prevent head clog. Focus inc. Athena-Jet are using the peristaltic pump for all ink supply system. this is very import.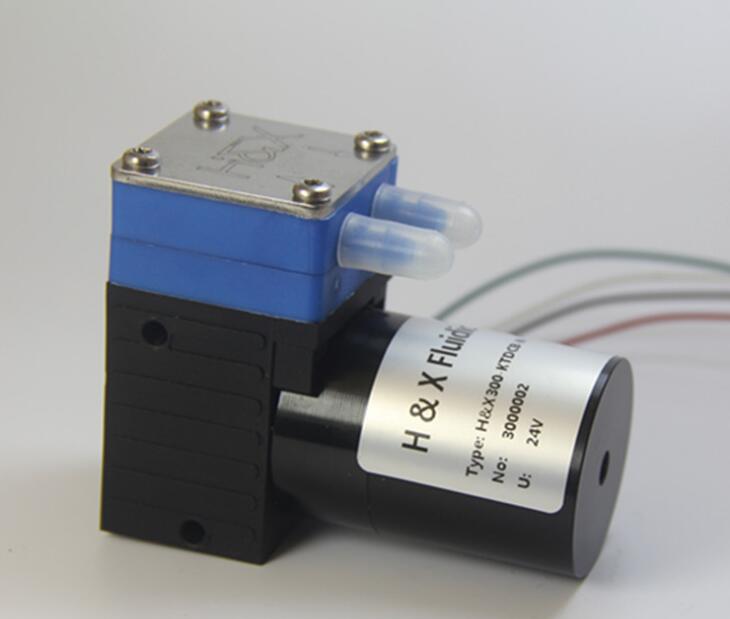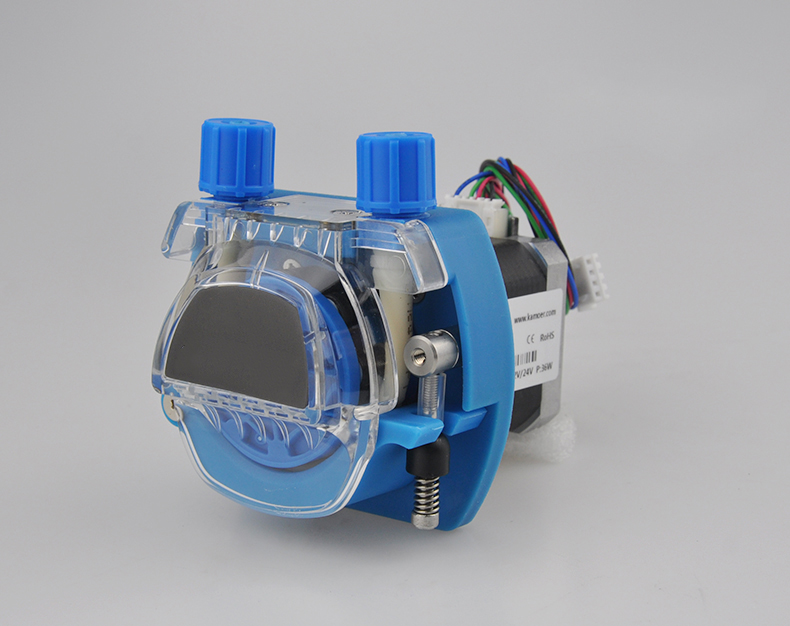 (Normal rotor pump) (Focus inc. peristaltic pump with switch)
So do your homework and choose wisely.

Production
Most printers in the $2,500 to $15,000 bracket will produce around 15 to 20 per hour on dark garments and double that amount on whites. This is obviously dependant on the size of print. There are more expensive printers out there, ranging from $50,000 – $200,000 that will give very high production figures, these are more suited to companies requiring from 150-250 prints per hour.
Print head
This is the main feature that you need to think about. as desktop printer, the print head are belong to consumable, that means you need to change it if it can not get a good nozzle status print as the wrong operation, daily maintainance job and mass production. as it will effect the color and resolution if the print head get consumed. also you need to take the cost for consideration. the print head for dtg printers almost as following:

Epson L805, L800, R1390, PMG4500 for enter level, cost arround $200.
Epson R1800, R1900, R2000, F858000 F186010, F191010, DX5, DX7 for middle level, cost arround $750~¥1100
Epson 5113, TFP T7000, T3000, RICOH for industrial level, cost arround $700~$1700
Fujifim GALAXY Series, PQ series, Sapphire series, Koyocera for top mass production. cost around $2000~$8000

Droplet size
As all dtg printers need put white ink for print on dark shirt, so the printed density for white ink will effect the printing quality obviously, the printed out iamge will be like gray or dark as dont have enough white ink printed on the botton of the color ink, so a good dtg ink require a large droplet size for white ink print and small droplet size for color ink print for the best quality. so it require a print head can support variable data grayscale printing that can choose the large dot size for white and small dot size for color. These also need the control software and Rip match with it. it will not working if the rip and control software canot match it even they take variable head for using. so you need to ask the supplier what is the droplet size of the print head and how it support the variable data printing first. i take some of the head droplet size for your consideration;

Epson stylus series : 3.5Picoliter~7pl (Epson Modified dtg printers using)
Epson TFP series: 1.5pl~15pl (Focus polar-jet/ epson F3000 using)
Epson DX5/DX7 series: 4.2pl~27pl (DTG digital/Melco/Azon/Focus Inc. Using)
Epson 5113 series: 3.5pl~42pl (Focus Athena-Jet using)
Ricoh G4/G5 series: 7~15pl (Anajet using)
Fujifilm Dimitax series: 10pl~35pl (Kornit using)

So if your budget is less than $10000, i strong recommand you take the epson 5113 head. as the large space for small and big dot droplet size between 3.5~42pl for veriable data printing.

Fire frequency
Almost 99% dtg printer using the piezzo inkjet printing technology, so the fire frequency is the main feture to jurdge the speed of a print head. the frie frequency will effect the printing speed directly, but it also need good making by a mechanical system, electronic system and rip control system.

Epson stylus series : 13KHZ (Epson Modified dtg printers using)
Epson TFP series: 20KHZ (Focus Polar-jet/ epson F3000 using)
Epson DX5/DX7 series: 14.4KHZ (DTG digital/Melco/Azon/Focus Inc.Nuva-Jet Using)
Epson 5113 series: 30KHZ (Focus Athena-Jet using)
Ricoh G4/G5 series: 30KHZ (Anajet using)
Fujifilm Dimitax series: 20~50KHZ (Kornit using)


(Working principle of a piezo inkjet print head)


Mechanical making:
The precison of the mechanical making will also effect the printing quality and stablity. all metal parts must be laser engraved and plastic spray under high temprature baking. some of the motion parts as motor tranist plate, print head mounting board gears all must made by high precison CNC laser engraing machine but not normally milling machine.

Motion system:
The linear rail go with ballscrew configuration is the standard confguration for a industrial level dtg printers. but some modified printers use the belt go with normal ball rail for save the cost.



Ink supply system;
As the dtg ink are made from pigment, Sodium alginate and adhesive, the ink was stick to the tshirt as adhesive. it is not like the sublimaiton, reactive or acid ink that color stain by chemical action under a certain temperature and steaming. The white ink was made by Titanium. it is easy precipitation because it is heavy than water. so a circulation and shaking system are must required for white ink using. some dtg printers can only make the circuation to ink tank. while the ink between ink tube, ink damper are still settling. Focus Inc. dtg printers are making the circulation to the damper. It can make sure all white ink are fresh during printing.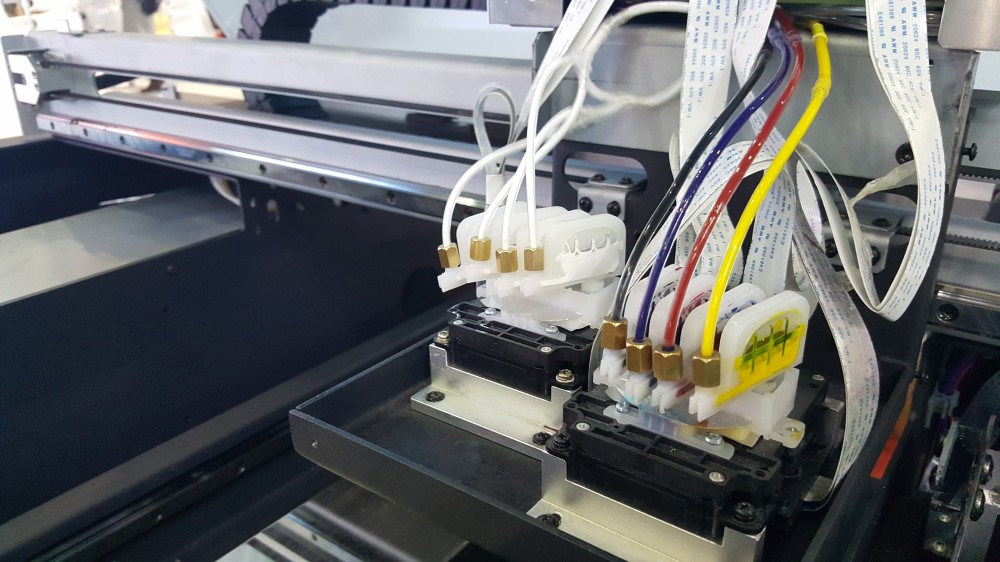 ( Focus inc. WIPCS white ink processing shaking circulation system)

RIP software:
The color redition of a dtg printer tshirt printing machine was effect and controled by a Rip software(Raster image processing system), a good rip must get a good color rendition as grayscale, halftoning, variable data printing, spot color printing, template printing, custom edit. ICC profile making and adjustment...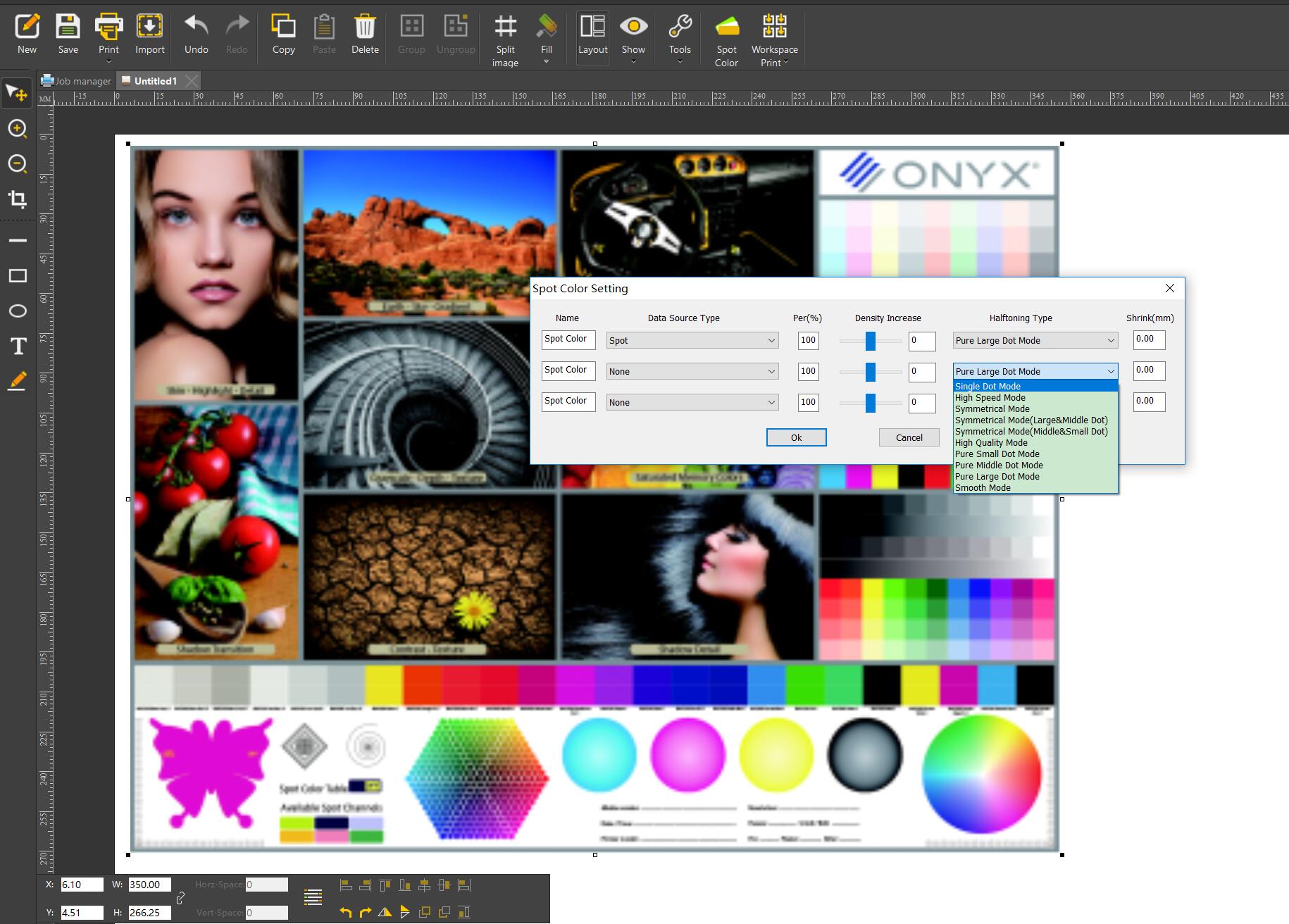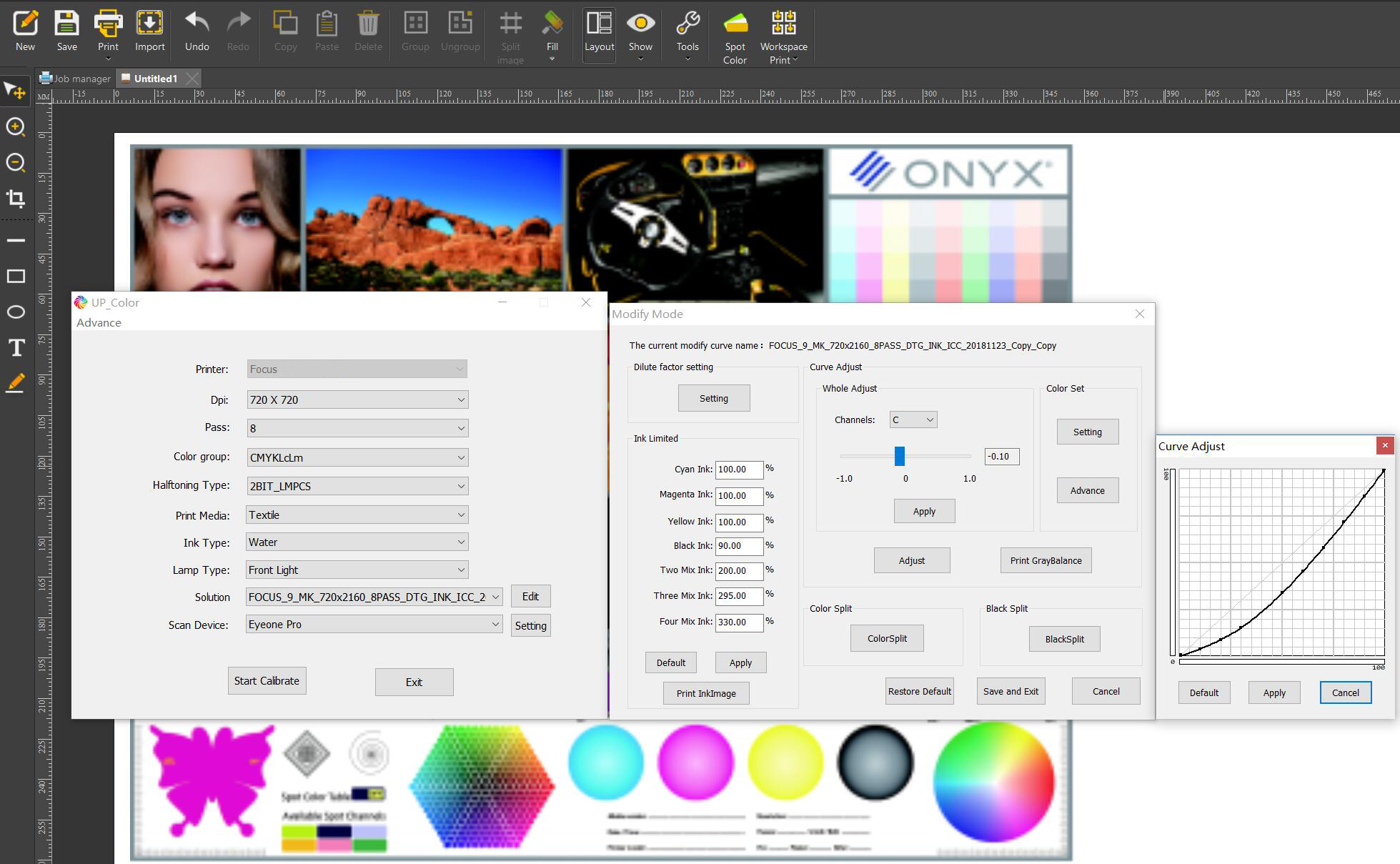 Please click here to learn more about FocusRIP V9.09 DTG version


Support:
Whatever level of printer you decide on, the most important question to the supplier is, what sort of support do you offer.
The problem with this question is that all suppliers will say they offer superb support. So, I'm afraid it's up to you to find out for yourself.
There are several ways of doing this, you could ask your supplier for referrals or look on forums (make sure they are recent entries and relate to your country). Ask how long they have been selling and supporting DTG equipment, how many engineers they have on the road, are they their own personnel or freelance, have the engineers been factory trained. if they can speak english or not. the best way is call their enginner directly, and ask several technical questions as icc profile, spot channel, haltoning printing, droplet size... if they can answer you question with professional and fluency speaking, then go ahead, otherwise, froget it.

Inspection:
If you buy a dtg printer out of your country, you need to be sure the dtg printer are working well before delivery. let them mark a serier number on the machine, and do an inspection test video and report for testing and packing. no one customer want to arrive a machine without working.
You can take Focus Inc. test inspection report and video for consideration: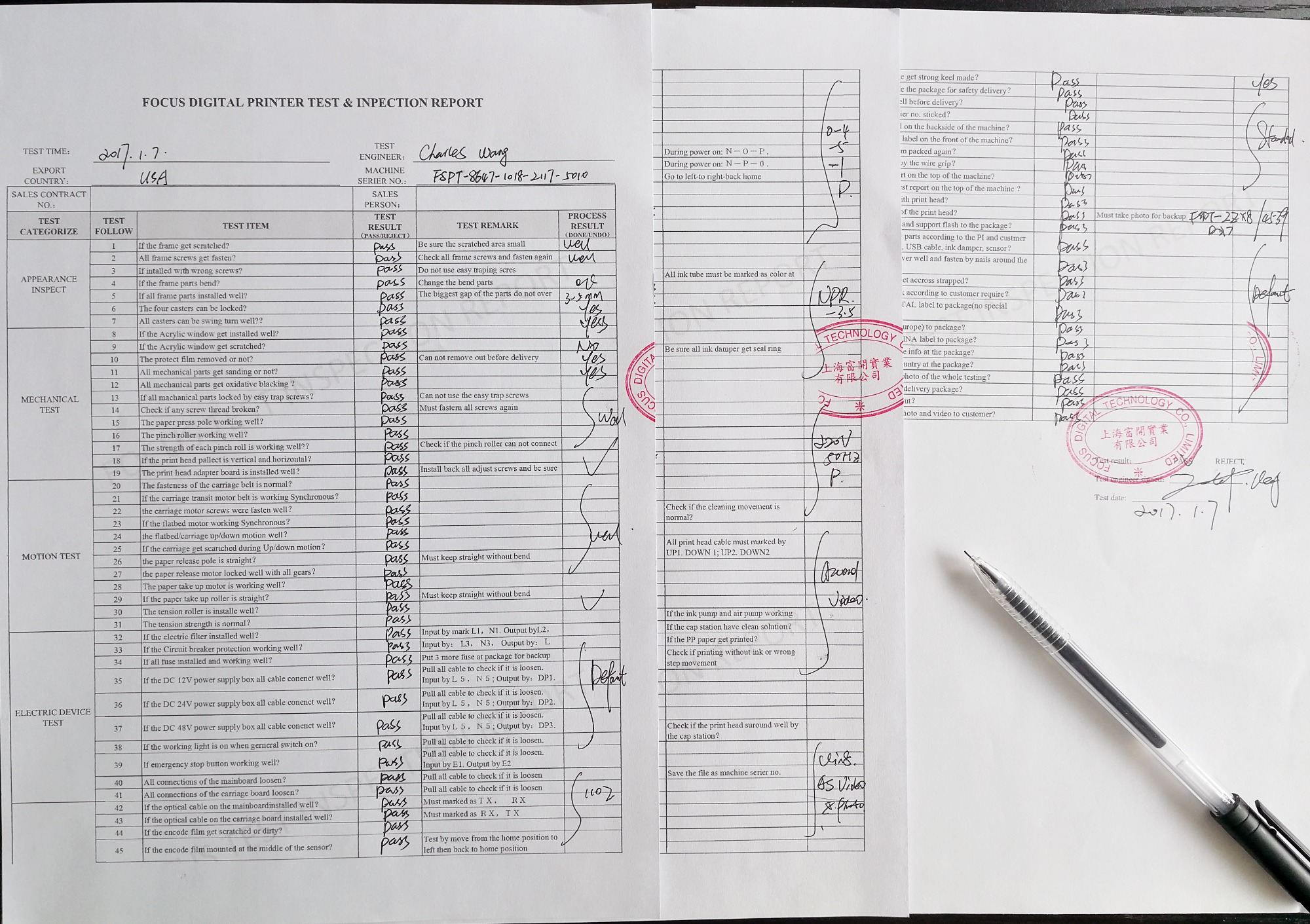 If you feel comfortable about the supplier, go and buy and look forward to a rewarding DTG printing business.




---Author: Christopher Derrick ( Technical managing director of Focus inc.)
Leave a Reply
Your email address will not be published.Required fields are marked. *